About Us
Adventure Outdoors LLC and its divisions, Glenwood Adventure Company and Lakota Guides, have been offering whitewater adventures in Colorado for over 30 years. Here's more about us and our owners.
We've evolved over time to be your complete Adventure Outfitter in Western Colorado. Our mission is to provide one-of-a-kind memories with your safety in mind. We're the leader in Colorado's adventure industry. We strive to give you a world of activities to choose from, and we're confident you'll find an adventure that will exceed your expectations.
Locations
Adventure Outdoors LLC has a number of adventure outposts in some of the most popular destinations in Colorado. We have offices in the Vail Valley, Glenwood Springs, and Buena Vista.  We're able to provide guests with access to some of Colorado's most awe inspiring landscapes and unique destinations.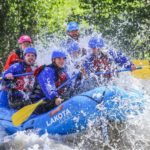 Our talented team of experienced outdoorsmen/women will make sure your trip is the best it can possibly be. The staff was hand picked for their passion of the outdoors and their desire to share it with visitors. Their enthusiasm and knowledge enhances the experience and turns an average adventure into an unforgettable one.
The Lakota tagline, "Weird but Cool" sums up the guys who own this operation. They have over 100 combined years of experience. The owners each began their careers in the outdoor industry as guides prior to GoPros and self-bailing rafts. They work tirelessly behind the scenes to make sure everyone is having the time of their lives!
Jim Bair
Jim Bair grew up on Bair Ranch, a 5500 acre private ranch in spectacular Glenwood Canyon. He and his family have been customizing a premier outdoor experience for almost 3 decades. The adventures offered at Bair Ranch include horseback riding, ATV tours, and Jeep tours. A varsity basketball coach, Jim is a towering athlete with a great passion for the outdoors, especially hunting, throughout the world!
Ken Murphy
Ken Murphy, a native of Dublin, Ireland, brings experience managing operations for large outdoor activity companies in Colorado. He began his career in the outdoor industry as a river guide on The Arkansas and Colorado rivers. He's one of the lucky ones that has been able to make a career of it. Ken is sports science and business graduate from London, England. He's a family man that enjoys traveling around the world in the winter, supporting his ski racing daughters.
Karl Borski & John Mark Seeling
Karl Borski and John Mark Seelig are our river experts. Their goal is to insure that every guest has a memorable time and enjoys the wonderful waters Colorado has to offer. It's not uncommon to see them out on the river guiding.
Karl has been in the guiding business for over twenty years. He spent several years paddling in countries such as Chile, Panama, and Guatemala. Karl also lived for several years in Honduras running a raft company. He has two talented, hockey-playing daughters who he coaches in the winter time.
John Mark moved to Colorado in 2004 with his wife. They both love skiing and the mountains but quickly realized the summers would become their true passion. John serves a Ski Patroller at Beaver Creek and captained the US Men's Rafting Team that competed at the World Championships in New Zealand and Brazil. John Mark has a broad experience in the fitness industry as a Crossfit, Crossfit Mobility, and yoga instructor. A proud new dad, John is a fitness fanatic, and will "pump you up" prior to your adventure.
Michael Lowe
Michael Lowe is a former NOLS instructor and consultant to several international outdoor organizations including NOLS and Outward Bound. He brings two decades of experience guiding multi-day trips as well as keeping up to date on safety protocols and program management within the industry. Mike is an avid outdoors man in the winter and summer months and school teacher during the off season. He has taken part in some of the most grueling adventures races such as the Eco Challenge and the Grand Traverse. Mike is also an Backcountry Avalanche Awareness instructor and football coach in the fall for his son's team.